COLLABORATORS
WE-SPARK Health Institute
Ryan Palazzolo
Adriana Grande
Karen Metcalfe
This project brings together a diverse and interdisciplinary group of post-secondary students from St. Clair College and the University of Windsor.
Project Description
The Students Igniting Vaccine Confidence Program engages a multidisciplinary and diverse team of postsecondary students to work collaboratively to design activities, translate information, and educate all members of our regional community about COVID-19 vaccines. The program aims to achieve four main objectives: 1) identify and understand drivers of both vaccine confidence and hesitancy, particularly in students and young adults; 2) focus on the unique perspective of racially and ethnically diverse younger populations; 3) develop and implement evidence-based practices that effectively promote vaccine confidence by addressing personal, social and physical barriers to vaccine knowledge and trust; and 4) leverage community partners and empower early adopters to inspire trust, ensure equitable access, and foster greater COVID-19 vaccine confidence.
The one-year extension of this program (as offered by NSERC) allows the team to pivot all four main objectives based on current provincial and campus mandates and the introduction of new vaccines and booster shots.



Social Media Campaigns
COVID-19 Vaccine Conversations Campaign
Check out our conversations in various languages:
Booster Your Confidence Campaign
Postcards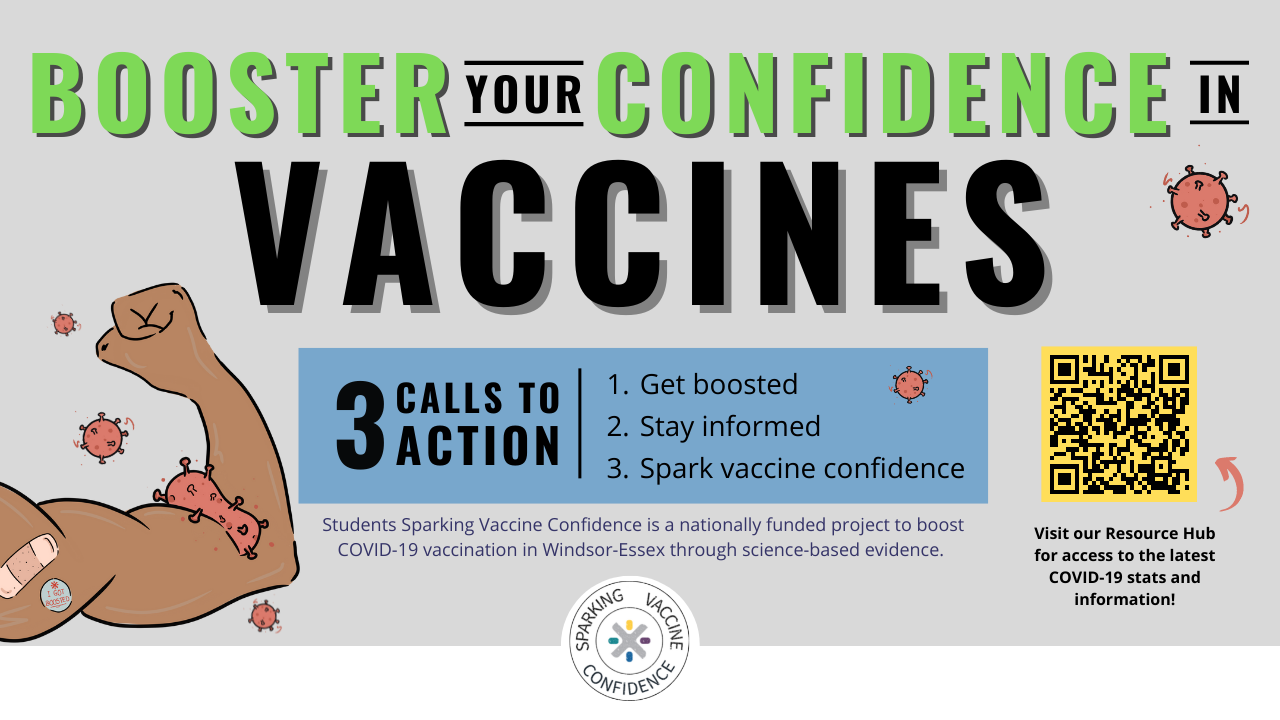 Bookmarks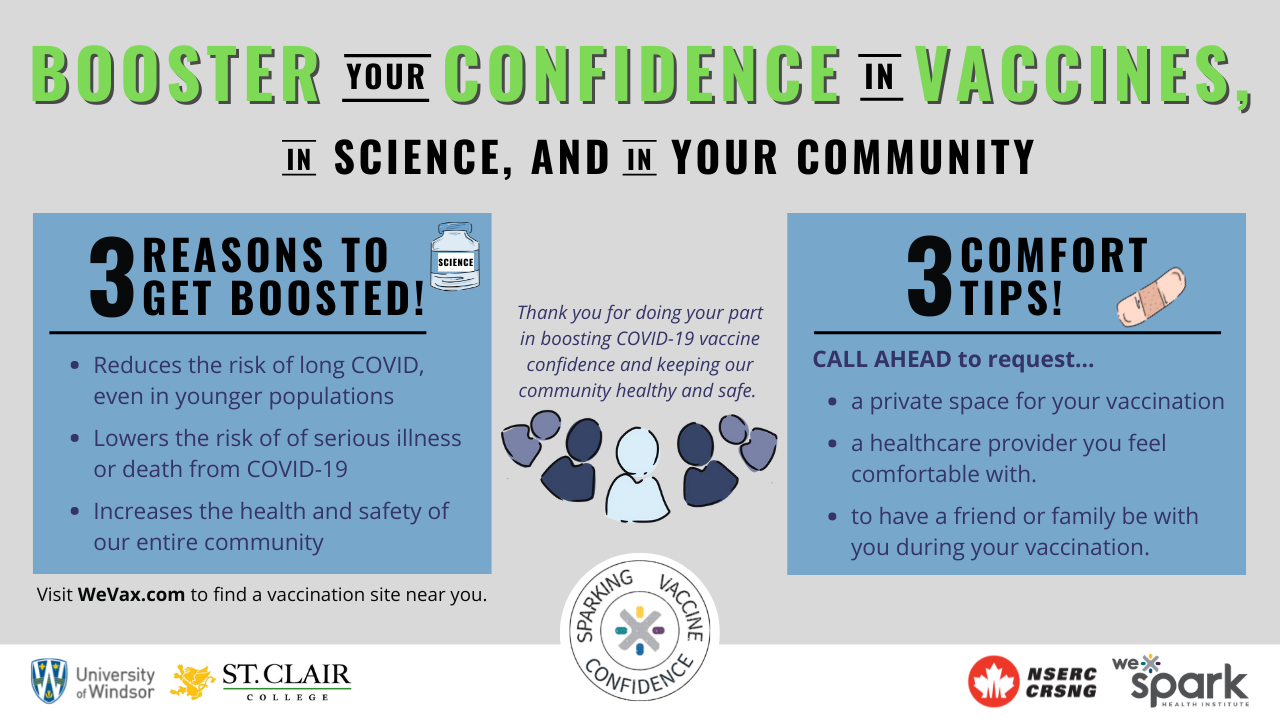 Why Did I Get Vaccinated?
Tools & Resources
COVID-19 Vax Facts Quiz: Take this quiz to learn more about COVID-19 vaccines and build your vaccine confidence!
Also Available in Spanish: Datos sobre las Vacunas COVID-19

COVID-19 & Vaccination: A guide for parents, guardians, and children. (printable PDF)

Also available in the following languages:

Events
Our vaccine confidence team hosted a webinar on December 2nd from 6-7pm,"Sparking Vaccine Confidence Among Students of Windsor-Essex." This event featured 5 panelists including a science expert, a frontline worker and students answering a variety of questions regarding their experience with COVID-19 vaccine hesitancies.
Articles
Daily News-University of Windsor (August, 2021): Researchers Teaming Build COVID-19 Vaccine Confidence Among Students&Young Adults
Daily News-University of Windsor (November, 2021): Students Lead Campaign to Address Vaccine Hesitancy
Windsor Star (November, 2021): Student-Lead Online Event to Address Vaccine Hesitancy Among Windsor-Essex Young People
Blackburn News (November, 2021): Student-Lead Event to Address COVID-19 Vaccine Hesitancy
AM800 (November, 2021): Upcoming Event Focused on Addressing Vaccine Hesitancy Among Youth
Daily News-University of Windsor (November, 2021): Webinar Intended to Boost Confidence in Vaccine Safety and Efficacy
CBC News (January, 2022): Vaccination Coverage Low in Windsor's COVID Hot Spots and Among Young Adults.

CTV News (October, 2022): Art installation by post-secondary students aims to boost COVID vaccine confidence

Our Collaborators
| | | |
| --- | --- | --- |
| | | |