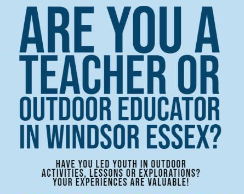 This study explores how adult educators of youth aged 4-13 in Windsor-Essex interpret the functionalities of outdoor classrooms; that is, how designs, features and other aspects of outdoor classrooms make them serviceable to the educators and their students.
What Does The Study Involve?

Seeking educators to take a 20-25 minute questionnaire about experiences teaching in outdoor classrooms in Windsor-Essex. Educators include certified teachers, ECEs and DSWs, but also employees and volunteers with formal training, e.g. leaders of Scouting, Guiding, 4-H, Junior Naturalists, Junior Achievement; leaders of faith-based youth groups; First Nations elders; Forest School teachers; museum curators; educators at parks, conservation areas and historic sites; private school teachers, and more. Questionnaire is anonymous. You will not be asked to identify your employer or volunteer organization.
Participants may choose to become involved in a non-contact follow-up interview.
---
Principal Investigator
Loretta Sbrocca, Master of Education student, under advisorship of Dr. Clinton Beckford, University of Windsor.
Who Is Needed?
Age Range
18 years or older
Research Objectives
Study End Date
Apr/11/2021