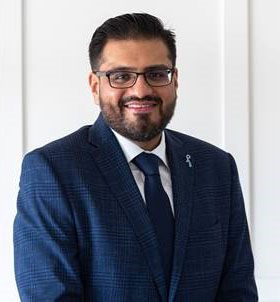 Dr. Junaid Yousuf
associate researcher
Radiation Oncologist, Cancer Program, Windsor Regional Hospital
Adjunct Professor, Department of Computer Science, University of Windsor
---
CONTACT
Bio
Dr. Yousuf is a Radiation Oncologist at the Windsor Regional Hospital where he leads a busy clinical practice across a number of disease sites including GU, breast, GI, thoracic, cutaneous and hematologic malignancies.
He is an award winning medical educator and is actively engaged in training the next generation of physicians and allied health care professionals. Dr. Yousuf is a sought after and dynamic speaker on various topics within Oncology. He is a spirited leader and seasoned mentor who takes a keen interest in topics related to physician wellness and clinician burnout.
Dr. Yousuf is a graduate from the University of Ottawa with his MD, and completed his residency in Radiation Oncology at Queen's University. He is currently an Assistant Professor at Western University and Adjunct Professor at the University of Windsor.
Expertise
Breast cancer, Lung Cancer, Medical education, Prostate brachytherapy, Prostate cancer, SBRT (stereotactic body radiotherapy)