Mar 07, 2023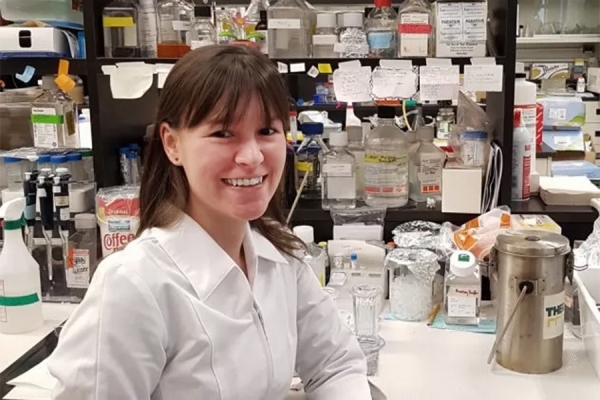 It was a "serendipitous" discovery that could change researchers' understanding of how a deadly form of liver cancer develops in the body.

University of Windsor researchers were recently awarded $750,000 from the Canadian Institutes for Health Research to study how a protein, named Speedy, discovered by Bre-Anne Fifield promotes non-alcoholic fatty liver disease (NAFLD) — which can lead to Hepatocellular Carcinoma (HCC), one of the leading causes of cancer deaths worldwide.

"The project will focus on determining how Speedy changes the cell biology and the fat that accumulates in the liver and it will determine how that can lead to the formation of liver cancer," said Fifield, who is an adjunct assistant professor of biomedical sciences at the University of Windsor and a member of the WE-SPARK Health Institute.
"This is an exciting project, as results from this work could reveal new ways of detecting aggressive NAFLD early and new avenues of treatment for this aggressive form of disease, potentially saving lives," Fifield said.
The five-year survival rate of HCC is just 20 per cent, and there are no effective treatments available for advanced stages of the cancer, Fifield added.
Speedy was discovered 11 years ago when Fifield was a graduate student studying the formation of breast cancer, and found that male mice with the Speedy protein in their liver were developing HCC at much higher rates.
"This has been such a rewarding project to be part of and see it develop and grow from an unexpected discovery," Fifield said. "The team of undergraduate students I have worked with over the years on this project have been instrumental in the success of this research program."
Fifield will work as the research associate on the project, with Lisa Porter, executive director of the WE-SPARK Health Institute as the principal investigator. Matthew Krause and Abdulkadir Hussein, professors in the departments of kinesiology and mathematics, respectively, will collaborate.
The project received a Seeds of Hope grant from the Windsor Cancer Centre Foundation in 2015, getting the research off the ground. It also received a grant from WE-SPARK in 2022.
"Our community plays an important role in fueling these exciting discoveries" said Porter. "Without donors, the grant support of the Windsor Cancer Centre Foundation and WE-SPARK's grant program, we would not have been able to move these ideas forward or be competitive at the national level.
"We cannot be more grateful that our team has been successful. We're proud of the caliber of trainees and collaborators on this project, their determination to stay on course, and our local community supporters who have made this potentially game-changing research possible."
Courtesy: https://o.canada.com/news/local-news/uwindsor-researchers-granted-750000-to-pursue-cancer-related-discovery