Nov 10, 2022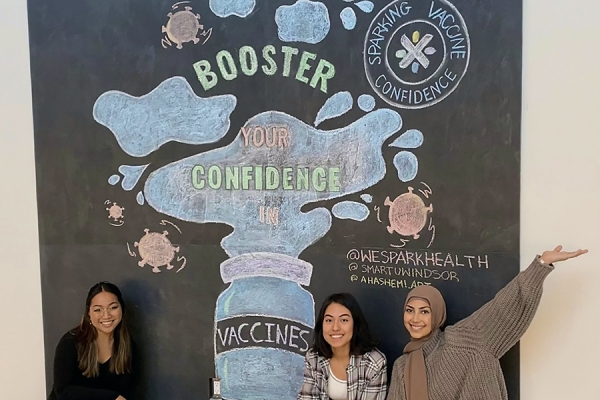 Artists Elyssa Biscocho, Paola Noriega Flores, and Aya El-Hashemi

pose with their chalk mural in the Essex Centre of Research. Photo by Ruqayyah Faizan.

Students from the Students Igniting Vaccine Confidence team have created a chalk mural in a campaign to promote confidence in vaccination against COVID-19.
Volunteer artists from the Faculty of Science's Science Meets Art (SMArt) group and St. Clair College filled the main floor chalk board walls of the Essex Centre of Research (CORe) building with art on Friday, Nov. 4.
Aya El-Hashemi (BSc 2022), a master's candidate in translational health science, created the installation design. The project lead says the team used a chalk wall to communicate this science-based vaccine confidence message because art is a tool that transcends language barriers and broadens the vaccine confidence scope.
"Incorporating multiple disciplines helps close gaps as we translate knowledge to the community," says El-Hashemi. "By having members from various areas of study, we empower our team to explore a diverse set of mediums and language tools."
Students Igniting Vaccine Confidence is funded by the Natural Sciences and Engineering Research Council (NSERC) and is supported by WE-Spark Health Institute. The institute's volunteer network co-ordinator, Ryan Palazzolo, says people are still being negatively affected by COVID-19, in every part of Canada and right here in Windsor-Essex.
"We are still getting outbreaks in our hospitals and long-term care facilities, which puts a strain on families in so many ways," says Palazzolo.
"There are people right here at the University of Windsor — even the younger population — who were otherwise healthy but are now struggling with ongoing physical and mental health problems as a result of long COVID. Just because we're no longer hearing or reading the numbers daily doesn't mean people are no longer impacted by the virus."
Acting dean of science Dora Cavallo-Medved is the principal investigator of the SIVC project. She says having students at the forefront of the campaign strengthens their collaboration, communication, and leadership skills.
"We've seen the negative impact of misinformation during the pandemic," says Dr. Cavallo-Medved. "This project allows our students to lead in the building of vaccine confidence among younger populations and restoring trust in science."
In addition to the art installation, lawn signs are popping up around campus to promote the "Booster Your Confidence in COVID Vaccines" campaign. Signs will also appear on the St. Clair College campus later this month. Read more about the lawn sign campaign and contest to win a $25 Subway e-gift card in the Nov. 4 DailyNews article.
Book a vaccination appointment online using www.wevax.ca.
—Sara Elliott
Courtesy: https://www.uwindsor.ca/dailynews/2022-11-09/mural-bears-message-promoting-vaccination