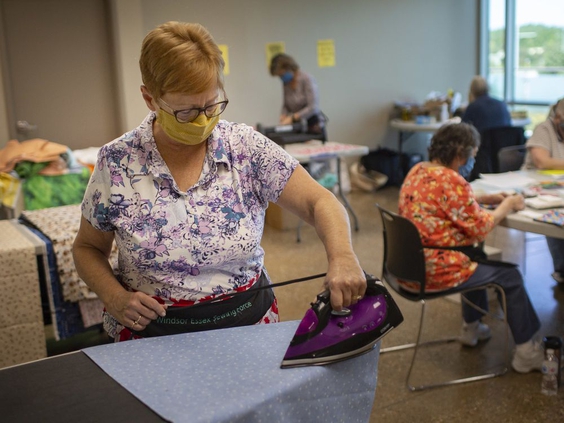 Volunteers with the Windsor Essex Sewing Force, prepare mask
kits for sewing, at the WFCU Centre, Monday, September 21, 2020.
The group reached 25,000 masks and caps produced for the
Windsor-Essex community. PHOTO BY DAX MELMER /Windsor Star
A group of volunteers who stepped up to help produce masks and caps for health care workers and residents across Windsor and Essex County have reached a major milestone.
The Windsor-Essex Sewing Force this month surpassed creation of over 25,000 hand-made masks and caps for the local community.
"Our WESF volunteers are continuing their efforts sewing and donating masks to groups in highest need," said Rebecca Rudman, co-founder and organizer of the group. "To reach that number is pretty amazing for such a small group to have such an impact on the community."
The group formed and launched their efforts soon after the COVID-19 pandemic reached the Windsor area in March. Since that time, up to 800 volunteers at some point have participated in the group — either producing the masks or assisting with distribution, Rudman said.
The group presently has about 100 volunteers active currently with the youngest being a five-year old and oldest over 90.
"We have a real cross-section of people," Rudman said. "Everyone has really come together to help those who are vulnerable and at-risk."
Among those receiving masks and caps have included health care workers, long-term care workers, migrant workers, elderly and most recently over 1,000 masks have been provided to children at school.
"It's been a tremendous privilege to give back to the community," Rudman said. "A big reason we have been able to revs this milestone has been because of our incredible partners."
The group has been provided support from WE-SPARK Health Institute and University of Windsor which has provided advice to ensure proper safety quality of the homemade masks.
The city also donated space at the WFCU Centre to produce and help distribute masks, while several in the community have made donations to the group to help purchase fabric.
"All this just shows how in times of need we are a community where everyone really pulls together," Rudman said.
For more information, to volunteer or donate to the sewing group, visit online at wesf.ca.
Courtesy: https://windsorstar.com/news/local-news/community-group-reaches-milestone-in-creating-hand-made-masks/wcm/12a55739-efd0-4fbc-9854-e5c696b67965/