Nov 09, 2023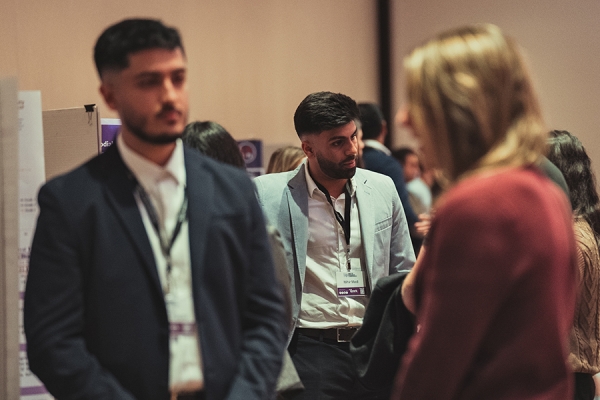 WE-Spark Health Institute attracted more than 300 attendees to its

health research conference, Nov. 4 at Caesars Windsor.

More than 300 people networked and discussed the latest health research advancements at the WE-Spark Health Institute's 2023 Health Research conference, held Nov. 4 at Caesars Windsor.
Health researchers, clinicians, students, and trainees from the Windsor-Essex health research community came together to learn from local and international experts and innovators to discuss, collaborate, and deepen their knowledge of the latest research advancements.
The second annual conference featured more than 100 research posters and 51 oral presentations from experts representing diverse health research areas.
WE-Spark Health Institute introduced the innovative "Lived Experience Accelerating Research kNowledge" (LEARN) program aimed to foster increased engagement between individuals with lived experience and research partners, encouraging meaningful collaboration to accelerate health research. Aligned with this initiative was a panel discussion focused on engaging people with lived experience on research teams.
Clementa Stan participated in the panel representing the perspective of a person with lived experience and she raves about the conference.
"From the venue to the presentations, to the flow of the day, the conference was very successful," says Stan. "I also wanted to thank them for including me in the program; it was so wonderful to be able to share the caregiver perspective."
WE-Spark's director and biomedical sciences professor Lisa Porter says the event exceeded expectations.
"The calibre of speakers, engagement of participants and involvement of trainees and people with lived experience made for a unique and valuable experience for all," says Dr. Porter.
"By bringing together people in all areas of health we grow our network and strengthen our ability to respond to health challenges. I think all participants left energized and hopeful."
WE-Spark Health Institute is a partnership among the University of Windsor and Erie Shores HealthCare, Hôtel-Dieu Grace Healthcare, St. Clair College, and Windsor Regional Hospital that brings together health research strengths, expertise, and infrastructure from across the region.
Courtesy: https://www.uwindsor.ca/dailynews/2023-11-08/conference-shares-advancements-health-research