Aug 17, 2023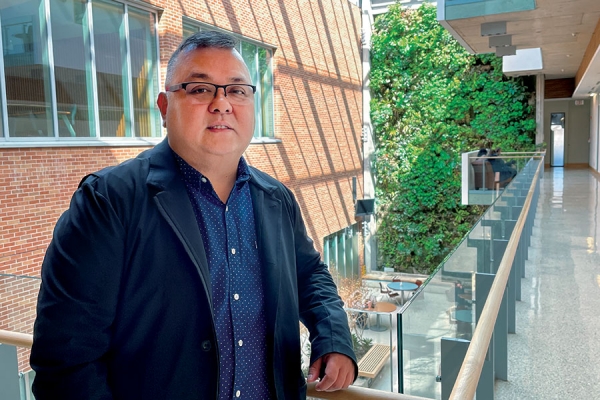 Nursing professor Edward Cruz received a Top 25 Canadian Immigrant Award

for his work with internationally educated nurses.

A journey strewn with disappointment, riddled with roadblocks and daunting administrative mountains to climb is that much more gratifying when you reach the peak. Such is the case with nursing professor Edward Cruz, who recently received a Top 25 Canadian Immigrant Award for his work with internationally educated nurses.
Presented by Western Union, the Top 25 Canadian Immigrant Award is a people's choice program that recognizes inspirational immigrants who have made a positive impact on their communities since arriving in Canada.
Given annually, the awards are based on an extensive nomination, judging, shortlisting and public online voting process; this year's list boasts a film star and veganism advocate, a Juno-nominated songwriter, a Canadian football MVP, and other diverse community champions.
Upon his arrival in Canada in 2003, Dr. Cruz's found that his impressive academic credentials, which include a BScN, a PhD in education from the Philippines, and another PhD from Japan, were not sufficient to secure him interviews in the Greater Toronto Area.
"The biggest issues I encountered were lack of recognition of my foreign academic credentials," says Cruz. "It was disheartening to realize that out of the three the degrees I held, only one was recognized. But the reality was that this is just the way things go for degree equivalency assessments. Processes, systems, and standards are in place for a reason. As soon as I accepted that, I felt ready to take on the challenges presented to me."
The power of drive, determination, and opportunity inevitably yields success. Cruz recently received tenure in the UWindsor Faculty of Nursing, teaching undergraduate and graduate studies, supervising student research, and collaborating with colleagues on research projects.
His goal is to assist other internationally educated nurses who are on the same path that he once had taken.
Cruz holds or has held such positions as:
co-chair of the Partners in Integration and Education of IEN
co-chair for the National Newcomer Navigation Network's IEN Community of Practice working group
project steering committee of CARE Centre for IENs
chair of the National Nursing Assessment Service's education review advisory committee
research consultant for the Integrated Filipino Canadian Nurses Association
founding member and president-elect of the Philippine Nurses Association of Canada


Canadian Immigrant cited Cruz's prolific research career, with more than $600,000 in grants to fund project partnerships. One of those included a Social Science and Humanities Research Council grant to explore the employment trajectory of Filipino-Canadian nurses in Ontario.
"What excites me the most about this project is it will shed light on the impact of gender, class, and race in relation to the labour market outcomes of Filipino-Canadian nurses like myself in Canadian society," says Cruz, who is somehow finding time amid all his advocacy efforts to work on a third doctorate.
Asked how he felt about reaching his recent achievement, Cruz paused, and with sigh responded, "You really get to see just how many more peaks there are from here!"
View the 2023 Top 25 Canadian Immigrant Award recipients.
Courtesy: https://www.uwindsor.ca/dailynews/2023-08-09/nursing-professor-honoured-inspirational-immigrant?fbclid=IwAR29uewOhHWWLJ6knd8AUax8VD67B3e5LLBnvumNjG4D3gRDmiYdwdZikl0