May 29, 2023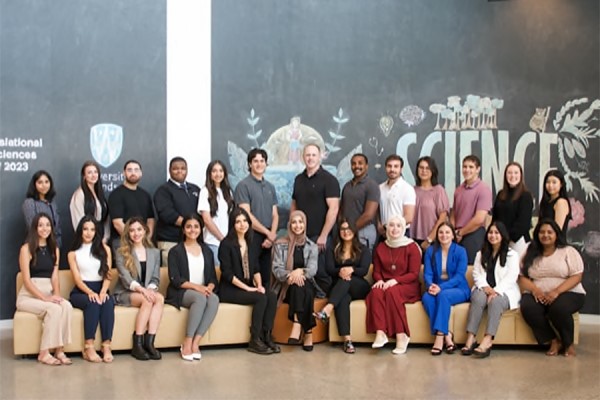 May 30, 2023 marks a significant milestone for the University of Windsor as the first-ever cohort of students graduate their Master of Science in Translational Health Science (MSTHS) degrees in the Biomedical Sciences Department.

Established just over a year ago, the program caters to graduate students with an interest in health-related careers or pursuing advanced degrees in health professions.

The success of the program can be attributed to the breakdown of silos and strong partnerships forged through WE-SPARK Health Institute. These collaborations have provided students with invaluable experiential learning opportunities through 12-month placements with local clinicians and researchers. This hands-on experience equipped them with practical skills and knowledge essentials for their future careers.

The 22 graduates of the MSTHS program will embark on diverse career pathways, contributing to the betterment of healthcare in various domains. Notably, some graduates have secured careers in clinical trial management and administration at such institutions as the Hospital for Sick Children and Henry Ford Hospital, playing crucial roles in improving patient outcomes.
Others have been accepted into professional schools, encompassing medicine and dentistry to contribute to medical progress. Complementing these pathways, select graduates have elected to pursue industry-oriented paths to advance knowledge and drive scientific discoveries. One of the graduates, Genesis Flores, has secured a position as the Knowledge Translation Research Associate with the WE-Spark Health Institute, where she will play an important role in enhancing the accessibility of health research to the public.
The achievements of these graduates exemplify the program's dedication to providing a comprehensive education and exceptional professional development opportunities, empowering graduates with the skills and confidence necessary to excel in their chosen health related careers.
One of the program's graduates, Ryan Palazzolo, shared his experience: "the MSTHS program is perfect for anyone seeking to gain healthcare research experience, network with professionals, and develop essential skills."
Another graduate, Waffa Bakheet, expressed her gratitude in the program, stating "the professors played a pivotal role in creating a welcoming and supportive environment tailored to our individual career interests and goals."
Andrew Hubberstey, head of the Department of Biomedical Sciences, congratulates the members of the inaugural class for their dedication and commitment, crucial to the program's success. He thanks the clinical professors for their guidance and mentorship. Dr. Hubberstey also acknowledges program co-ordinator Martin Crozier's exceptional contributions and visionary leadership in ensuring the program's triumph and student's remarkable achievements, which has attracted a record number of applications for the program's second cohort.
The idea to create the MSTHS degree originated several years ago from Lisa Porter, executive director of the WE-Spark Health Institute and University of Windsor distinguished professor, and Caroline Hamm, oncologist at Windsor Regional Hospital.
"What a tremendous first year," says Dr. Porter. "The calibre of students and the research that they were able to drive forward was nothing short of outstanding. We applaud Dr. Martin Crozier for his hard work and amazing leadership of this program. Congratulations to the first cohort in the Master of Science in MSTHS degree; you have made us all proud."
Prospective students looking to enroll for the May 2024 cohort can visit the program site to learn more about its objectives, admission, requirements, and how to apply.
WE-Spark Health Institute is a partnership between the University of Windsor, Erie Shores Healthcare, Hôtel-Dieu Grace Health Care, St. Clair College, and Windsor Regional Hospital designed to elevate health research excellence across Windsor-Essex.