Nov 16, 2022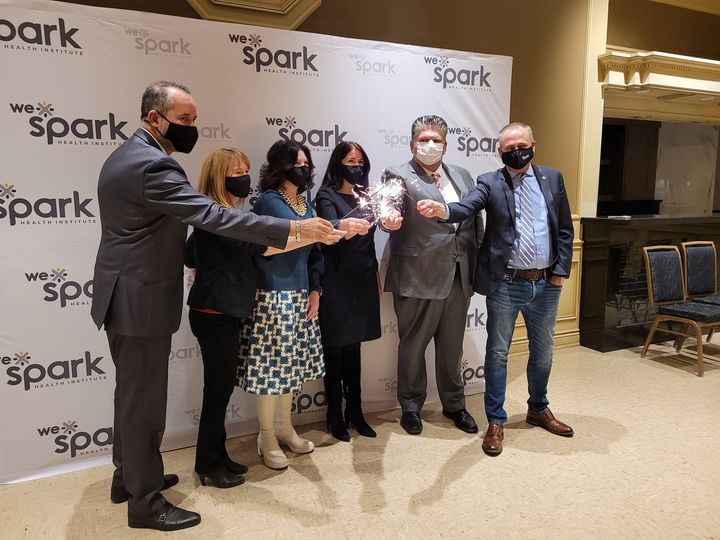 Left to Right: Bill Marra, President and CEO, Hôtel-Dieu Grace Healthcare / Lisa Porter, Executive Director, WE-SPARK Health Institute / Patti France, President, St. Clair College /

Kristin Kennedy, President and CEO, Erie Shores HealthCare / David Musyj, President and CEO, Windsor Regional Hospital / Chris Houser, Interim Vice-President Research & Innovation, University of Windsor.


Erie Shores HealthCare joined Hôtel-Dieu Grace Healthcare, St. Clair College, the University of Windsor and Windsor Regional Hospital as an official partner of WE-SPARK Health Institute during a celebration and signing of a Memorandum of Understanding on November 16, 2022.

WE-SPARK Health Institute began approximately 13 years ago as a grassroots effort between health researchers and healthcare professionals across the Windsor-Essex region with a passion to elevate and grow health research. In March 2020, WE-SPARK was officially launched, with a vision to establish a thriving and engaged research community driving advancements in health.

"Health research has far-reaching benefits," said Dr. Lisa Porter, executive director WE-SPARK Health Institute. "It creates an academic culture that attracts and retains the best and brightest in healthcare, keeps our professionals current, supports the best learning experience for students, empowers and educates the community, delivers new therapies, brings in new infrastructure, provides answers to healthcare problems unique to our region, and aids in rapid adoption of the best prevention and care practices. And, data shows that patients treated in institutions that conduct medical research live longer. This is not an advantage that can be reserved for Ontarians living only in our larger cities: we need and deserve that here in Windsor-Essex."

WE-SPARK boasts a number of accomplishments, including dispersing over $1M in grants, which amplified into over $36M in grant funding for the region.

"We now have over 860 WE-SPARK members who are engaged in our programs and who all help in different ways to move our health research environment forward," adds Porter. "Our members are passionate about tackling different health challenges who bring different expertise to the table, who believe in working together, and in tearing down barriers to enhance the health, well-being and care of people in our region.

Erie Shores HealthCare's tagline is 'Compassionate care close to home'. It is a strong, progressive community hospital committed to the values of Collaboration, Quality, Reliability and Kindness. All of these things make them a perfect WE-SPARK partner. Today we are thrilled to grow that membership, and welcome Erie Shores Healthcare as an official partner of WE-SPARK Health Institute."

QUOTES

"As our region continues to grow and evolve, it is imperative that Erie Shores HealthCare continues to grow and evolve as it relates to research and education in healthcare. Key to this outcome is continued close collaboration with our regional healthcare and education partners, with joining WE-SPARK Health Institute being an exciting next step in our efforts to drive best practices and foster an environment that helps attract and retain top healthcare professionals." – Kristin Kennedy, President and CEO, Erie Shores HealthCare.

"Local health research through WE-SPARK remains significant in our efforts of driving quality improvement and ensuring we are responsive to the needs of our community's patients and clients. HDGH is thrilled to be welcoming Erie Shores HealthCare as a new partner of WE-SPARK to extend and strengthen this collaborative work with our greater Essex County to better serve the patients and clients in our entire region. We looking forward to continuing to change lives together through the research and innovation of WE-SPARK and all of its partners." - Bill Marra, President and CEO, Hôtel-Dieu Grace Healthcare.


"St. Clair College joins WE-SPARK'S founding partners in welcoming Erie Shores HealthCare to this organization's innovative and essential research undertaking. The vast knowledge and experience of the staff of Erie Shores HealthCare will greatly enhance WE-SPARK's effort to develop the programs, procedures, techniques and technology that will ensure the physical, emotional and social well-being of citizens in Windsor and Essex County now and for decades to come." - Patti France, President, St. Clair College.

"As an institute that is committed to the health of Windsor-Essex, WE-SPARK is once again demonstrating its ability to attract meaningful partnerships that bring together health expertise and infrastructure under the leadership of Dr. Lisa Porter. The University of Windsor is proud to extend a warm welcome to Erie Shores HealthCare as an official WE-SPARK partner." - Robert Gordon, President and Vice-Chancellor, University of Windsor.

"Taking a regional approach to health research makes sense on so many levels. Thank you to Erie Shores HealthCare for coming aboard to strengthen the partnership group supporting WE-SPARK as it continues to build research and innovation for our health sector that will benefit generations to come." - David Musyj, President and CEO, Windsor Regional Hospital.

---
Media Coverage:
Windsor Star: Erie Shores HealthCare joins WE-SPARK Health Institute
Bell Media: Erie Shores HealthCare becomes official partner of WE-SPARK Health Institute
Windsor News Today: ESHC becomes partner in WE-SPARK Health Institute
UWindsor Daily News: Erie Shores HealthCare partners in WE-SPARK Health Institute
St. Clair College News: Erie Shores HealthCare joins WE-SPARK Health Institute