Sep 13, 2022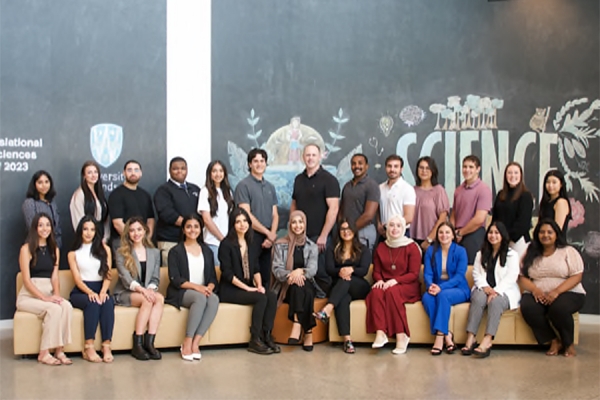 A new graduate program will help bridge the gap between medical research and clinical care.

The 23 students enrolled in the new Master of Science in Translational Health Science (MSTHS) program in the Department of Biomedical Science are getting ready to start their hands-on clinical placements.
The program, in its first year, is helping the Faculty of Science bridge the gap between advances in laboratory medical research and health care in clinical practice. The first cohort started in May 2022.
"We are celebrating the launch of the new program," says Martin Crozier, MSTHS program co-ordinator.
"This cohort is already a tightknit cohesive group — they are forming relationships they'll have for the rest of their professional lives."
In the year-long course-based program, each student is offered three terms of experiential learning placements. In this first year, 22 real-world clinical research projects were submitted by local clinicians and UWindsor researchers.
"All of the projects, with their real patient data, are addressing healthcare needs in Windsor which is nice because this isn't just a program physically located in Windsor, it is a program for Windsor," says Dr. Crozier.
"Looking at the big picture, these projects really bring the academic component to the clinical side and get the clinicians more involved in the academic side — it bridges that gap — which is the goal of the program."
Ryan Palazzolo (BSc 2019) will be completing one of his project placements at Windsor Regional Hospital with medical oncologist Caroline Hamm. He will look at the healthcare experiences of Southwestern Ontario migrant workers who are diagnosed with a critical illness.
"This project is looking to potentially inform legislation that could protect migrant workers healthcare access, if they were to develop a critical illness," says Palazzolo.
"I heard Dr. Hamm discuss the research project at a WE-Spark Think Tank event and her passion behind the project really highlighted how big of an issue it is. I was inclined to join the project for my placement. The inequality of healthcare access for these workers needs to be addressed, in the cases of critical illness."
The students were invited to network with the principal investigators on the projects before they chose which topic they wanted to pursue.
"There's a strong and diverse team supporting this project — two of my classmates, along with medical students and undergraduates. By collaborating with different institutions and people with diverse levels and areas of expertise, we will also develop non-academic skills that will help us with our future profession," says Palazzolo.
He is the student network co-ordinator at WE-Spark Health Institute. He says he entered the program because of his interest in research and the healthcare field and when he searched programs in Canada, the MSTHS at UWindsor was the only one-year program of its kind.
"It is perfect for students interested in healthcare because it provides research experience, allows you to work one-on-one with a local healthcare worker or university researcher, and develops our professional networks, all in one-year — it is perfectly packaged."
The MSTHS program fosters partnerships between the Faculty of Science, the Faculty of Nursing, Windsor Regional Hospital, Windsor Cancer Research Group, WE-Spark Health Institute, Hôtel-Dieu Grace Hospital, and St. Clair College.
Prospective students looking to enroll for the next intake of May 2023 can visit the Translational Health Science program website to learn more about the program and how to apply before Jan. 15, 2023.
Courtesy: https://www.uwindsor.ca/dailynews/2022-09-12/experiential-learning-placements-await-translational-health-students