Aug 16, 2022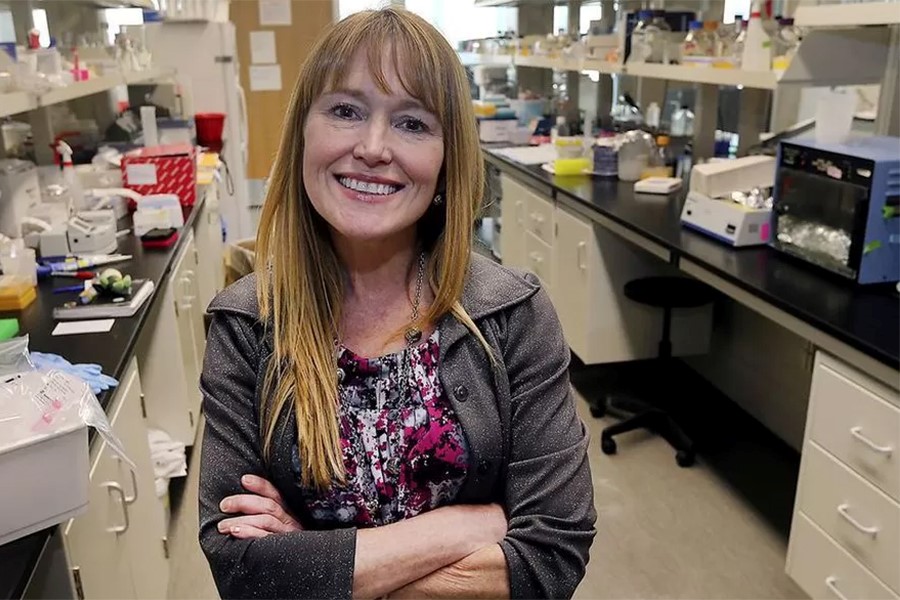 Lisa Porter, executive director of the WE-Spark Health Institute, is excited

that it has awarded more than $1 million in research grants.

WE-SPARK Health Institute and its funding partners have awarded 15 research grants totaling $310,000 to tackle local health challenges in its latest round of funding.

The grants provide funding to promote the development of early-stage, innovative health research and health education projects in Windsor-Essex and support other health research programs to increase their prospects for future funding. Projects include addressing gaps in healthcare needs, igniting new ideas, generating and disseminating knowledge, studies in emerging health topics, and sparking collaborations.

The grants involve collaborators across WE-SPARK's four supporting institutions — Hôtel-Dieu Grace Healthcare, St. Clair College, the University of Windsor and Windsor Regional Hospital — along with numerous community members, students and volunteers across Windsor-Essex.

"With each grant cycle, the number of new collaborators coming on board grows" said Dr. Lisa Porter, executive director. "And we're beginning to see the outcomes of grants that were awarded since the program's launch just over 2 years ago. These grants create jobs, address pressing problems and make Windsor-Essex competitive for national funding competitions. It's exciting that we have just surpassed $1M in grant disbursements!"

The 15 projects will involve over 100 researchers and trainees and thousands of participants. The projects include:

Developing an early intervention strategy for patients in an emergency room
Gaining a better understanding of head impacts in youth hockey
The effects of light therapy in Parkinson's patients
Developing a safe, non-evasive and cost-effective ultrasound technique for skin cancer detection
Exploring the potential impact of Dialectical Behavioural Therapy Skills in conflict in adolescent mothers' intimate relationships
Examining better ways to target and treat liver cancer
Implementing a data trust to address affordable housing
Exploring family engagement interventions in mental health services improve outcomes for children, youth and families
Developing an innovative approach to diagnosing and delivering treatment on aggressive brain tumours using a robotic platform
Gaining insight into the relationship between women's hyper-productivity, mental health, and trauma in higher education
Finding the safest boron compounds and their concentration dose to be used for radiation treatment of cancers
Using virus-like particles to deliver protein therapeutics for cancer of the brain and spinal cord
Understanding the challenges and experiences of migrant workers when accessing healthcare
Understanding the landscape for a Shelter Health Initiative in Windsor
Understanding the role of specific proteins and pathways that could be targeted to improve treatment of the genetic disorder Fragile X syndrome
"Our team is working to better understand the delivery of healthcare services to people in Windsor who are experiencing homelessness. This work is important to people whose lives may be directly impacted by our findings in the short-run, and it is also of interest to the wider community, as improving access to care is an important component in working toward ending chronic homelessness. Without the support of the WE-SPARK Igniting Discovery Grant, this work would not have been possible." - Jennifer Bondy, MD, Family Physician, CMHA Health Centre.

"A WE-SPARK Health Institute grant allowed my research group to collect the necessary data to obtain a larger 5-year CIHR grant. These grants are critical in expanding Biomedical research at the University of Windsor and in the Windsor-Essex region." – Jeffrey Dason, Assistant Professor Department of Biomedical Sciences, University of Windsor.

"We're grateful for the generous continued support from the Windsor Cancer Centre Foundation, and other grant sponsors including The Windsor Cancer Research Group, The University of Windsor Office of the Vice-President Research and Innovation, and four University of Windsor faculties: Arts, Humanities & Social Sciences, Science, Education, and Human Kinetics," adds Porter. "Their added contributions to our WE-SPARK Grants program have made it possible to fund these innovative projects."

Projects will begin in September and will found here: www.wesparkhealth.com/projects.

Since the launch of the WE-SPARK Health Institute grants program in April 2020, at total of $1,086,725 has been awarded for local projects.