Nov 29, 2021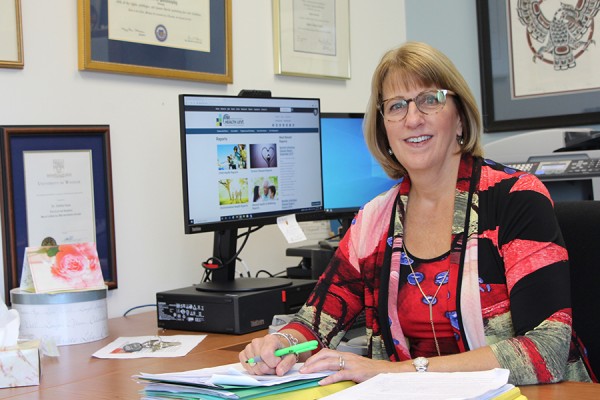 If you break a leg, there is a very good chance your workplace is going to do what it can to allow you to keep working, within reason of course. But what if you have cancer? Things can really differ from one workplace to another. A team of researchers at the University of Windsor is trying to get a handle on that.
Listen to the November 29, 2021 CBC Radio interview with Debbie Kane, Acting Dean of Graduate Studies, University of Windsor:
---
Related:
(Published November 29, 2019)
Accommodating cancer patients and survivors in the workplace is the focus of a new study led by UWindsor nursing professor Debbie Kane.
Dr. Kane has teamed up with psychology professor Kathryn Lafreniere, nursing professor emerita Dale Rajacich, and Windsor Regional Cancer Centre oncologist Caroline Hamm to survey 300 local workers who have undergone cancer treatment or are currently in treatment. They want to gauge the impact of employment on cancer patients' quality of life and explore ways employers could help them continue working during treatment and beyond.
"We know most people want to be at work. It means life is normal," Kane said. "If you're feeling really ill, you need to be at home, but for people who are well enough, they want to be at work."
It's estimated that about 60 per cent of cancer survivors continue to work during treatment or return to work afterward. Windsor and Essex County has higher cancer rates than the rest of Ontario, with 2,451 new cancer cases diagnosed in 2014, the latest year for which statistics are available. Of those currently diagnosed with cancer, 40 per cent are between the ages of 20 and 65, making them an integral part of the workforce.
The research project is one of three at the University of Windsor being funded this year by Seeds4Hope, the Windsor Cancer Centre Foundation's annual grant program. Kane and her collaborators have been awarded $25,000 and are expected to have their study results complete in a year.
They have done some groundwork in the form of pilot research involving eight cancer survivors who shared their experiences balancing treatment and work.
Therapies like chemotherapy have a cumulative effect, with early treatments being easier on the body than later ones, Kane explained. Early on, some workers can go for chemo in the morning and be back at work in the afternoon.
But many workplaces have no provisions for workers who need to be absent on treatment days or who feel too ill to work on the day or two afterwards. Workers burn through their sick-day allotments quickly, never getting the benefit of short- or long-term disability because they are not off for long stretches at a time.
Most employers who do accommodate cancer patients and survivors usually do so on an informal, case-by-case basis, the early research shows. A more formal system would need the support of unions and human resource departments, Kane said.
The research area is one which has not been explored in much depth, she said: "This is recognized as an important topic."
In a letter of support included in Kane's grant application, the Windsor-Essex County Health Unit said the importance of the research can't be overstated.
"I believe the goal of establishing best-practice guidelines to encourage, support and guide a timely and meaningful return to work for cancer patients and survivors will go a long way, not only to improving the long-term prognosis of the employee, but to help ensure the long-term success and viability of the businesses where they are employed." wrote Nicole Dupuis, the health unit's director of health promotion.
The research, Dupuis said, could serve as a model for workplaces throughout the province.
Courtesy: https://www.uwindsor.ca/dailynews/2019-11-28/study-focus-cancer-patients-workplace