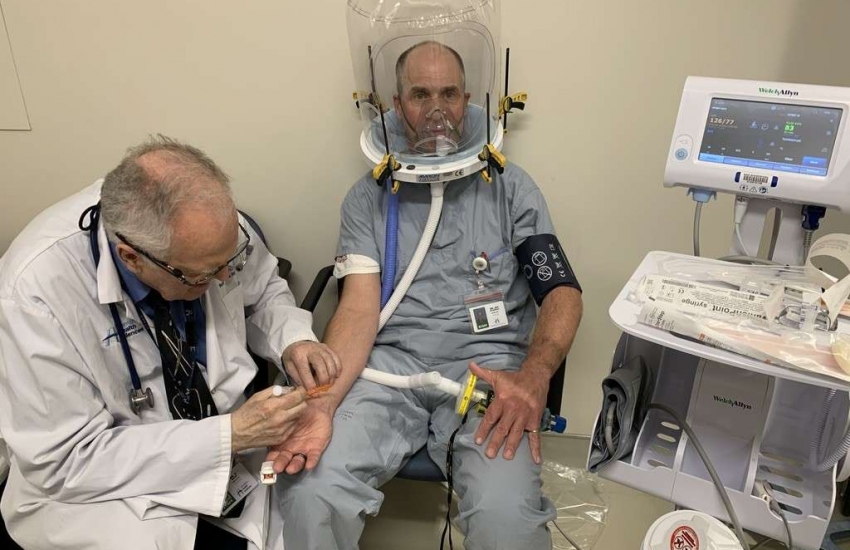 Dr. Clive Davis, left, and Dr. Jay MacDonald, right, test an early prototype
of the Canada Hood.
(Photo courtesy of Dr. Jay MacDonald)
Helping critically ill patients breathe while protecting health-care workers is a challenge of the COVID-19 pandemic, one involving researchers around the world.
A Windsor collaboration involving St. Clair College is in the early stages of developing a made-in-Canada solution that was recently awarded a $19,450 Igniting Discovery grant by the local WE-SPARK Health Institute.
It's called the Canada Hood.
The researchers are Dr. Jay MacDonald, an emergency physician at Windsor Regional Hospital who also works in the hyperbaric medicine program at Hamilton Health Sciences; Dr. Clive Davis, an expert in respirology, intensive care and hyperbaric medicine in Hamilton; and Dr. Rob Woodall, an emergency physician and former ER chief at Windsor Regional.
Crest Mold Technology Inc. in Oldcastle is building the hood prototypes, while St. Clair is providing administrative support and testing.
Wendy Foote, a professor in the College's Respiratory Therapy program, is the project lead responsible for testing the efficacy of the prototypes.
Hood ventilation devices, also known as helmets, are not new technology, Foote said. The clear plastic bubbles fit over a patient's head and seal around the neck. Tubes connected to the hood pipe in blended oxygen and air, remove and filter air the patient breathes out. Inside the bubble, pressure is increased to improve oxygenation and make breathing easier for the patient.
The hoods are a type of non-invasive ventilation that doesn't involve intubation – an invasive procedure that requires putting a tube down a patient's throat for use with mechanical ventilators.
Several studies have documented reports of the hoods helping save the lives of those in acute respiratory distress. When COVID-19 hit the world a year ago, hood ventilation devices were used extensively in Europe. However, none were made or available for use in Canada.
MacDonald, Davis and Woodall responded by designing a hood with several innovative improvements, Foote said. They partnered with Crest Mold to optimize component designs and produce them efficiently using advanced manufacturing. They have also applied for patents.
Foote's job is to test the prototypes Crest Mold is producing. The first tests will be on mannequins. The group plans to ask local respiratory therapists to act as patients and try the different hood designs, she said. They are the ones who would eventually use it on patients, understand how it works and know what could go wrong.
"What we need to test is to make sure it doesn't leak when patients are in different positions because they would be wearing it for hours," Foote said. "We're going to be testing for patient comfort and communication. We want to know if they can hear us through it."
Respiratory therapists often have COVID-19 patients lay on their stomachs to help distribute the oxygen in their lungs, Foote said. "So, we're going to be assessing how well (the hood) allows that to happen and whether it creates any additional problems or leaks."
The plan is to do the testing over 30 days in June and July, she said.
The Canada Hood has the potential to help patients and protect health-care workers in any situation where a virus can spread through droplets in the air, but this is just the first step in determining whether it's viable, she said.
Foote brought in two St. Clair respiratory therapy students to assist with the project. They helped complete the paperwork for the College's research ethics board and a biomedical ethics board at the University of Windsor. The students are looking forward to helping with the evaluation process.
"Just the idea that we've got Crest Mold working together with students, doctors and the College" has been inspiring, Foote said. "The students are learning about the process of a research project. That's been really valuable."
Courtesy: https://www.stclaircollege.ca/news/2021/st-clair-testing-made-canada-device-helps-patients-breathe
---
How a Canadian device aims to help COVID-19 patients breathe with ease
As vaccination continues, some patients with COVID-19 are still in intensive care units fighting for their lives under respiratory distress.
A Canadian project wants to change that and researchers in Windsor and Hamilton are working on a ventilation device that aims to ease the suffering of COVID patients experiencing some of the worst symptoms of the virus.
The device is called the Canada Hood and it is a non-invasive ventilation device that makes it easier for people struggling to breathe to get the oxygen they need to survive.
Windsor researchers include emergency physician Dr. Jay MacDonald and former ER chief at Windsor Regional Hospital, Dr. Rob Woodall. Dr. Clive Davis is with Hamilton Health Sciences and is an expert in respirology and intensive care.
Both MacDonald and Davis also work in hyperbaric medicine which looks at how oxygen can be used at different pressure levels to treat conditions like acute respiratory distress that may be caused by COVID.
The researchers are working in collaboration with St.Clair College to test out prototypes of the Canada Hood.
Wendy Foote is a professor with the College's Respiratory Therapy program and she is leading the testing effort with the team.
"What the hood does — it's like a clear marshmallow over your head — we can increase the pressure, so that patients are breathing in an atmosphere of a slightly elevated pressure." She adds, "What that does is it helps to keep our lungs open and that helps to improve oxygenation."
Foote also says that the device can be used to prevent patients from reaching a critical stage that would require invasive intubation to be treated.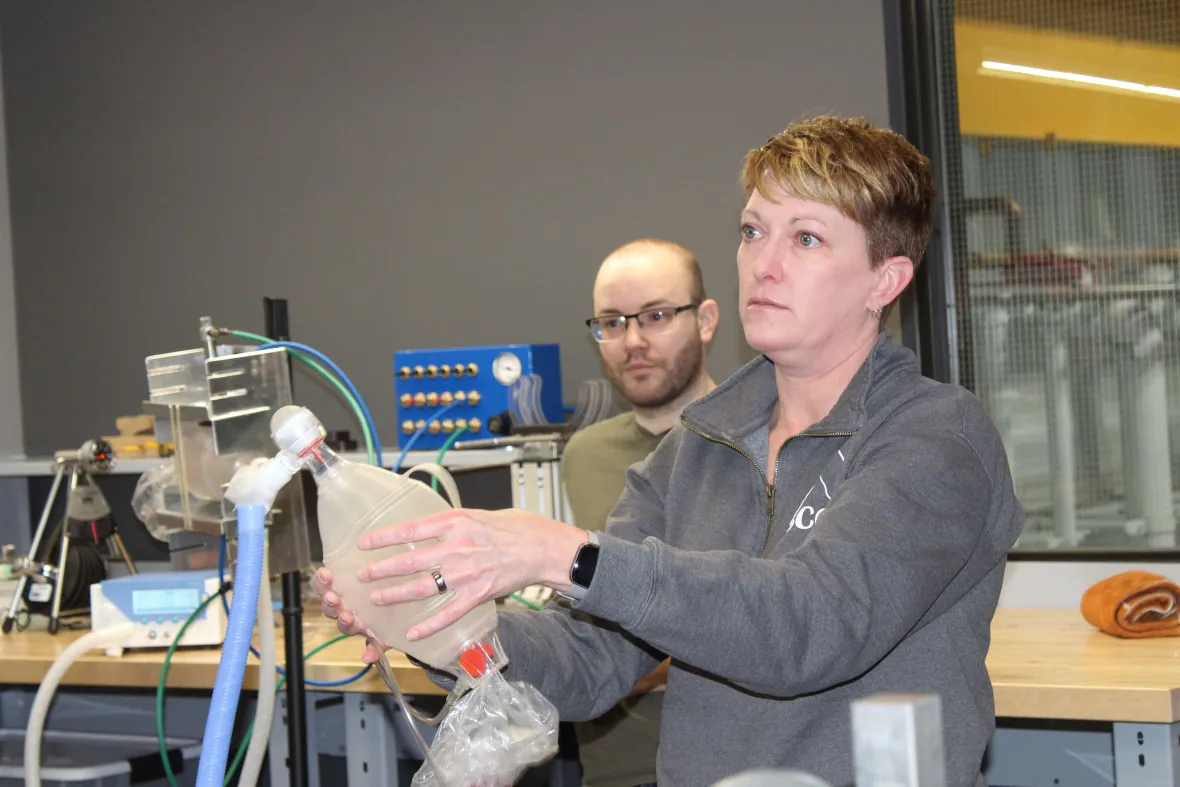 Wendy Foote is a professor at St.Clair College and is working on the project
to test out how effective the prototype models of the Canada Hood are.
Photo courtesy: St. Clair College
The hood also protects healthcare workers while they do their jobs. "It actually has a seal at the neck and helps contain the patient's exhaled gases and it's filtered, so that we weren't exposing healthcare workers to an infected environment."
The device has existed in various forms before and a version was used in some European countries as the pandemic was declared last year.
At the time, Canada was unable to pursue the option of developing the ventilation device because of limited manufacturing capabilities.
The Canada Hood project hopes to make improvements to existing models and plans are in place to have local respiratory therapists in Windsor-Essex test out the device in June and July this year.
Courtesy: https://www.cbc.ca/news/canada/windsor/canada-hood-covid-ventilation-1.5962226