Jul 23, 2020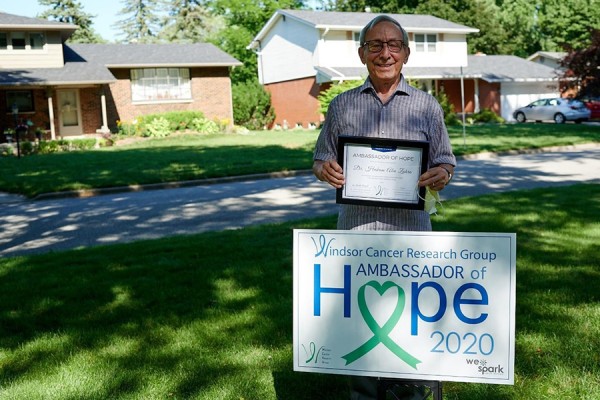 Oncologist Hakam Abu-Zahra is one of three Ambassadors of Hope recognized last week by the Windsor Cancer Research Group.
Since its launch over eight years ago, the Windsor Cancer Research Group (WCRG) has made remarkable progress in building cancer research capacity in the Windsor-Essex.
With a growing membership of over 300 researchers, students and community members, and increases in both research funding and educational programs, the WCRG is the region's flagship program for health research in the WE-Spark Health Institute.
The annual Ambassadors of Hope celebration recognizes the dedication and generous contributions to individuals and organizations that build and support cancer research.
"All our successes would not have been possible without the unwavering passion, dedicated commitment, and generous contributions from key community stakeholders" said Karen Metcalfe, assistant director WE-Spark Health Institute. "We are honored to recognize Heather Metcalfe and Dr. Hakam Abu-Zahra with our Ambassador of Hope Awards, and the Katelyn Bedard Bone Marrow Association for being instrumental in supporting the vision and mission of the WCRG with the Recognition of Hope Award."
The 'front lawn' celebrations took place at their respective homes on July 17.
Courtesy: https://www.uwindsor.ca/dailynews/2020-07-21/windsor-cancer-research-group-recognizes-ambassadors-hope